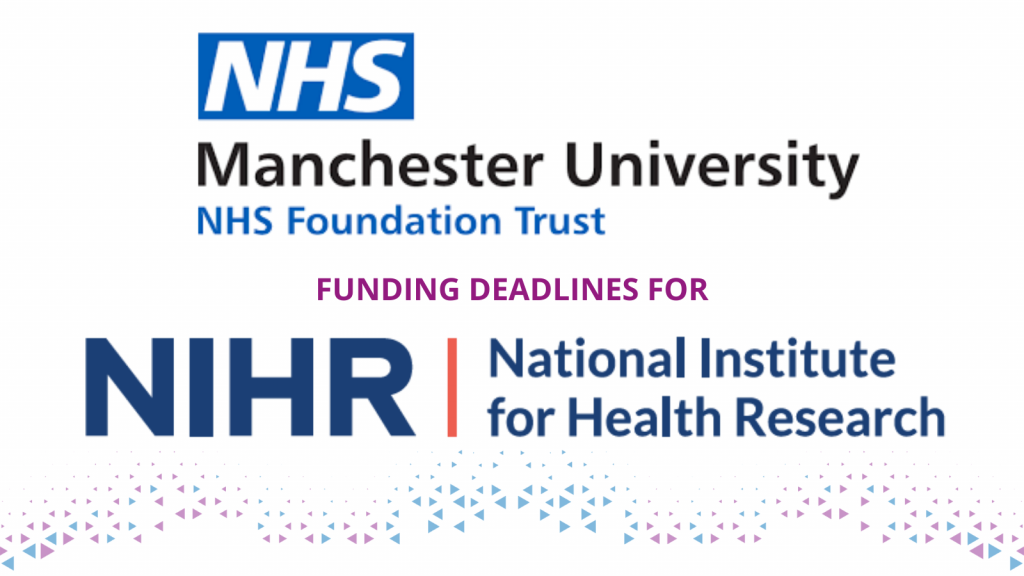 NIHR Deadline Overview – July 2022
The table below collates the NIHR funding deadlines for July 2022. 
This table is collated each month by our partners in MFT. If you have any questions on this table, or wish to be added to the distribution list for this funding bulletin, please email Dr Jo Bryant, NIHR Grants Research Assistant, at joanna.bryant@mft.nhs.uk.
Call Title/Programme

Stage

Deadline

RfPB Competition 48

1

13/07/2022

EME 22/70 EME Application Acceleration Award – International platform studies in precision medicine

Straight to stage 2

18/07/2022

NIHR Doctoral Fellowships Round 8

Single

21/07/2022

Programme Grants for Applied Research – Competition 39

Stage 1

27/07/2022

HTA 22/27-35 Commissioned Calls (for call titles see deadline overview)

Stage 1

27/07/2022

HTA 22/40 HTA Application Development Award: Towards evaluation of digital and technology-enabled healthcare

Stage 2

27/07/2022

Development and Skills Enhancement Award Round 10

Single stage

29/07/2022

EME

22/41-43 – Researcher-Led and Themed calls (for call titles see deadline overview)
22/48-49 – Themed Calls (see Themed Calls tab in deadline overview)
EME 22/60 Mechanisms of action of health interventions in patients with multiple long-term conditions (MLTC)

Stage 1

16/08/2022
Only a few call deadlines have been launched this month:
Call Title/Programme

Stage

Deadline

Harkness Fellowships in Health Care Policy and Practice 2022

 

01/11/2022

HSDR Themed

22/75 Health and Social Care Delivery Research Programme researcher-led call
22/76 NIHR James Lind Alliance Priority Setting Partnerships rolling call

1

13/09/2022

PHR 22/79-84 Commissioned Calls (see deadline overview)

1

29/11/2022

HSDR 22/78 Motor neurone disease highlight notice

1

20/09/2022

NIHR Senior Investigators – Call 16

 

24/08/2022