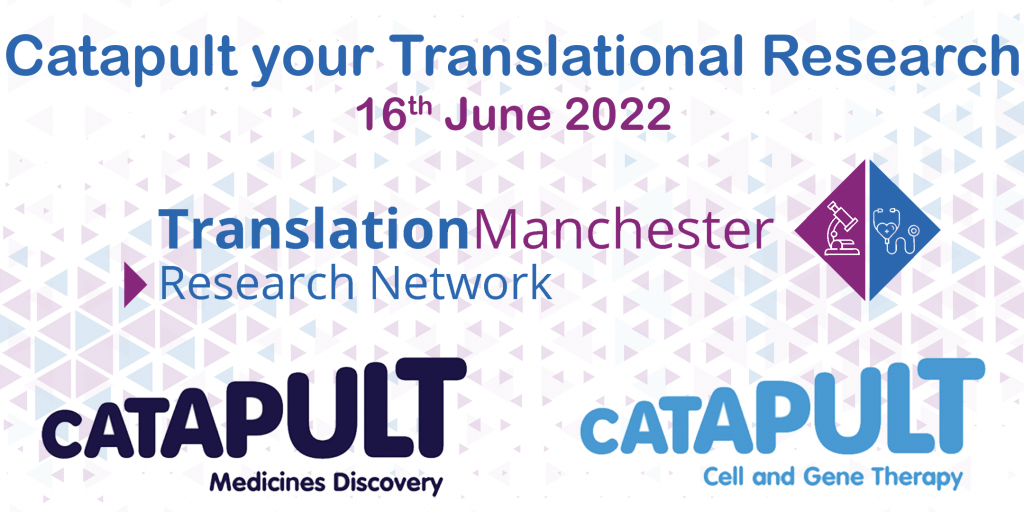 Catapult your Translational Research Workshop
Find out about how the Translation Manchester Research Network Catapult partners can support and progress translational research.
On June 16th 2022, we hosted the online workshop Catapult your Translational Research where the Medicines Discovery Catapult and the Cell and Gene Therapy Catapult talked about how they can help support and progress translational research projects. There was  an the opportunity to book a free 15 minute clinic with either Catapult to discuss specific research projects.
The `Translation Manchester Access to Expertise (A2E) scheme is currently open for applications (deadline 22nd July). The Catapult your Translation Research event was a unique opportunity to discuss potential projects with the Catapults and find out the expertise they can offer, for which you can then apply to the A2E scheme to fund. If you were unable to attend the event, you can watch it on demand from the link below and approach either of the Catapults to discuss a potential A2E application.
Agenda of the Day
– Introduction to Translation Manchester: Dr Fiona Foster and Dr Alessandro Faroni
– Medicine Discovery Catapult: Lynne Braidwood and Dr Rafa Jimenez
– Cell and Gene Therapy Catapult: Dr Asimina Pantazi
Watch the video of the event, and read mote information about the Catapults below:
Medicines Discovery Catapult
Reshaping Drug Discovery Together
How do you support researchers in Manchester?
At Medicines Discovery Catapult (MDC), we want to fundamentally reshape the UK's drug-discovery industry. It's ambitious, and it's entirely doable. We're achieving our aim through collaboration with UK drug discovery organisations. We give them access to industry-leading expertise, cutting-edge technology and superior-quality data. In doing so, we smooth these organisations' paths to success, accelerating their progress exponentially. New drugs advance to clinical trials more rapidly. Patients get life-improving medicines earlier than they otherwise would have. MDC's enthusiastically holistic approach is what makes us unique within drug discovery. Some of our collaborators may only need our help with one specific aspect of their project. Many, however, will find that we can assist with almost every aspect of it – from sample-sourcing, to biomarker analysis, target engagement to statistical analysis, preclinical imaging to syndicated collaborations.
At what stage in their research project should a researcher approach you for support?
It's never too early to approach us to discuss ideas with commercial potential. We work right across the drug discovery process and can offer a range of different models: Shared risk and reward, Contracted fee-for-service projects, Joint grant applications for collaborative R&D funding and Signposting & connecting
Cell and Gene Therapy Catapult
Commercialisation and translation of advanced therapies.
How do you support researchers in Manchester?
Many companies in the cell and gene therapy industry start in academia, which is why we are actively seeking to work with researchers in the field. We have formed partnerships with many academic institutions across the UK, giving them access to our state-of-the-art development and viral vector laboratories and to our in-house experts. This has included winning grant funding from different sources. If you feel that a research project you are working on addresses an unmet need in the field of cell and gene therapy, we would be interested to hear from you. We'll work with you to accelerate your projects, helping your cell and gene therapies to be safer, more effective, scalable and affordable. We make it our job to stay at the forefront of the latest innovations in cell and gene therapies, so that we are ready to help, whenever you might need us.
At what stage in their research project should a researcher approach you for support?
We have a range of approaches that can help tackle the challenges you might face in the development of cell and gene therapies. Along with our state-of-the-art facilities, our most unique asset is our expertise in developing a wide range of cell and gene therapies. Awareness of the challenges that your therapy will face from an early stage in its development will allow you to streamline your development pathway and optimise the use of grant funding and time.