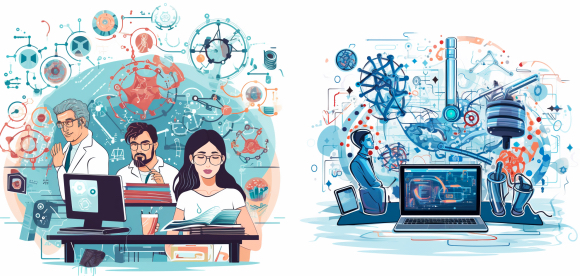 Join Our Bioinformatics Drop-in Sessions
Struggling with bioinformatics questions? Need guidance on data analysis, code troubleshooting, or result interpretation? Look no further!
Who are we?
The Bioinformatics Drop-in is a collaboration between Bioinformatics Core Facility (BCF) and Translation Manchester (TM), led by Leo Zeef (Senior Experimental Officer, BCF) and Lijing Lin (Translational Research Bioinformatician, TM). It is your chance to access the expertise and discuss your bioinformatics queries with experts. 
How Does It Work?
The Bioinformatics Drop-in is available bi-weekly for anyone at the University of Manchester, and no pre-booking is required. Simply drop by during the designated hour, bring your questions, and our team of experienced professionals will be ready to assist you.
 To help us plan and prevent potential wait times or disappointment, we would greatly appreciate it if you could send us an email outlining the questions you'd like to discuss with us.
Tap into our Vast Bioinformatics Expertise!
Our team of experts can provide guidance and support in various areas, including:
Navigating data analysis challenges
Troubleshooting code issues
Identifying optimal models for data analysis
Developing comprehensive analysis plans
Gaining expert insights to interpret your results
Designing effective experimental designs
Implementing statistical methods in bioinformatics
Analysing high-throughput sequencing data
Integrating multi-omics data for comprehensive analysis
Harnessing the power of public datasets
Presentation, plotting, publishing guidance
Next drop-in time and Location:
Date: 14th Dec 2023 (please contact us with your question before then)
Time: 3-4pm
Location: Michael Smith Building, B1083
Have Questions? Contact Us!
If you have any queries or need further information, please don't hesitate to reach out to us: leo[dot]zeef[at]manchester.ac.uk, lijing[dot]lin[at]manchester.ac.uk