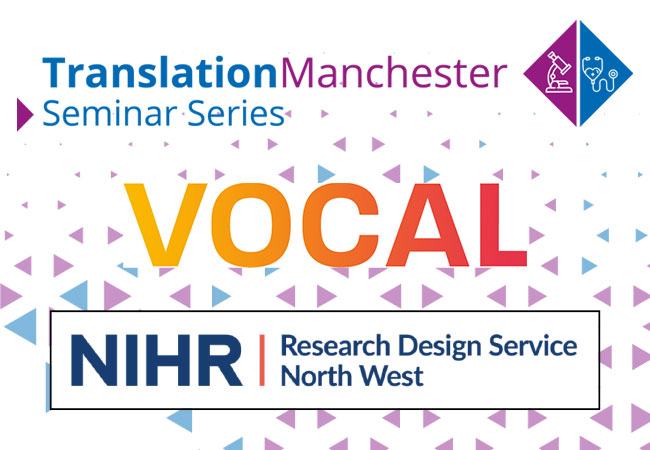 Translation Manchester Seminar Series – March 2021
The Translation Manchester Seminar Series is an opportunity for researchers to connect with each of the Translation Manchester Research Network (TMRN) partners and hear how they can help support and progress translational research projects. The growing network includes organisations from across the University, Greater Manchester NHS Trusts and industry. With network members supporting projects at each phase of the translational research pathway, this is your opportunity to meet them and develop future collaborations.
On 22nd March 2021, Translation Manchester welcomed Professor Andy Vail representing the NIHR Research Design Service North West and Dr Bella Starling representing VOCAL to introduce their organisations and how they support translational research.
The NIHR Research Design Service North West supports researchers who are applying to a national (or international) funding body in open, peer-reviewed competition to undertake applied health or social care research. They work with researchers to build a team that includes all necessary disciplines, including patients, the public, scientists, clinicians and methodologists. They also review rejected applications, or those with conditional funding approvals, to help researchers to improve them.
VOCAL is a specialist unit advising on and delivering patient and public involvement and engagement across Greater Manchester, nationally and internationally. We are financially independent and not for profit, hosted by Manchester University NHS Foundation Trust in partnership with The University of Manchester.