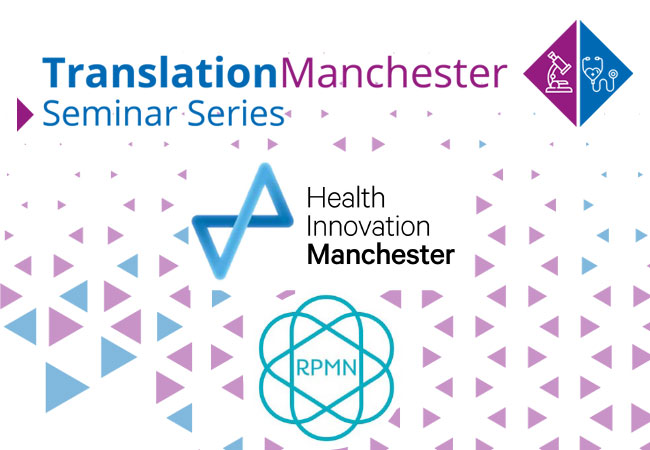 Translation Manchester Seminar Series – April 2021
The Translation Manchester Seminar Series is an opportunity for researchers to connect with each of the Translation Manchester Research Network (TMRN) partners and hear how they can help support and progress translational research projects. The growing network includes organisations from across the University, Greater Manchester NHS Trusts and industry. With network members supporting projects at each phase of the translational research pathway, this is your opportunity to meet them and develop future collaborations.
On 28th April 2021, Translation Manchester welcomed Dr Paul Hanmer representing the Innovation Nexus and Charlotte Stockton-Powdrell & Suzzane Carter from the Research Project Managers' Network to introduce their organisations and how they support translational research.
Based at Health Innovation Manchester, the Innovation Nexus is a team of advisors that brings together expertise across all aspects of working with the NHS and innovation, from trials, evaluation and market needs analysis to procurement and adoption. The team works with businesses that have an innovation or a product, service or technology that has the potential to benefit the NHS. They provide bespoke advice and analysis on the steps required to progress the innovations and engage with the NHS.
The Research Project Managers' Network (RPMN) was set up in 2013 to provide peer support to research programme and project managers working in health and social care in both NHS and university settings. The network meets twice a year and offers training sessions to its members which helps to build capacity and capability by developing existing staff within Manchester. Researchers are able to benefit from the wealth of experience within the network, and members offer advice, training and support often within their respective organisations. The RPMN forum can also be used to troubleshoot any questions that arise.