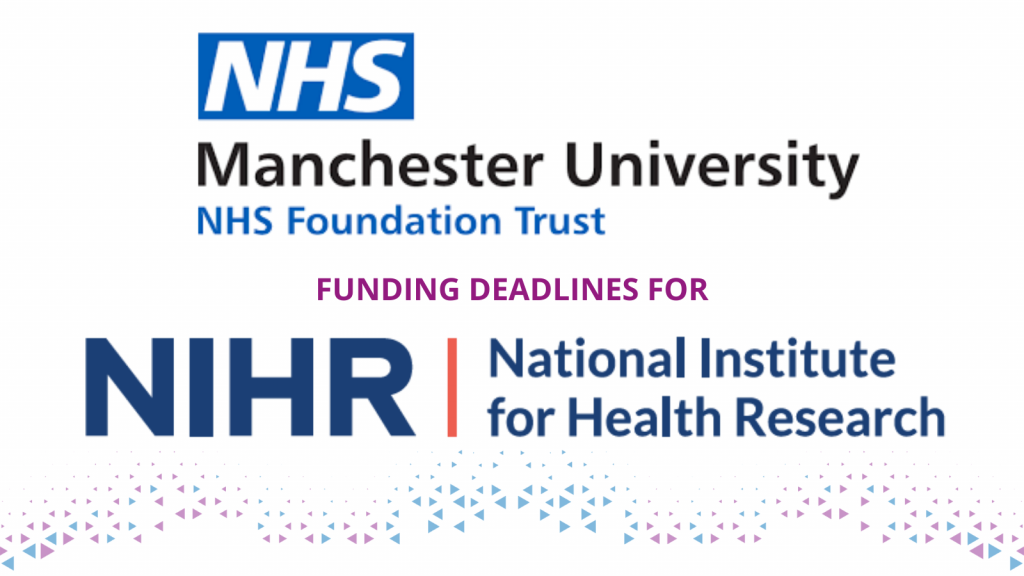 NIHR Deadline Overview – March 2022
The table below collates the NIHR funding deadlines for March 2022 as well as new calls highlights. March/April is a busy time for grant deadlines – on 5th April, there are more deadlines than an Excel row can accommodate, so please double click the cell to see the full list. Highlights are listed below.
This table is collated each month by our partners in MFT. If you have any questions on this table, or wishe to be added to the distribution list for this funding bulletin, please email Dr Jo Bryant, NIHR Grants Research Assistant, at joanna.bryant@mft.nhs.uk.
Call Title/Programme

Stage

Deadline

Development and Skills Enhancement Award Round 9

Single

31st March

HTA

21/586 Management of Perthes' disease in children
21/587 Should we prescribe postoperative antibiotics to patients with facial fracture?
21/588 Timing of pharmacological thromboprophylaxis in traumatic brain injury
21/589 Coenzyme Q10 in chronic heart failure
21/590 Thromboprophylaxis following endovenous treatment for people with varicose veins
21/591 Surgical treatment of proximal ACL ruptures with ACL repair or ACL reconstruction

1

30th March

NIHR Academic Clinical Fellowships in Dentistry 2021

Single

31st March

NIHR Clinical Lectureships in Dentistry 2021

Single

31st March

NIHR Academic Clinical Fellowships in Medicine 2021

Single

31st March

Cochrane review gold open access scheme

Single

31st March

Programme Grants for Applied Research – Competition 38

1

6th April

EME

22/8 Delivering a Sustainable Health and Care System
21/609 Researcher-Led
21/603 NIHR James Lind Alliance Priority Setting Partnerships rolling call
21/604 NIHR NICE rolling call
21/602 Pain management for children and young people (0-19 years)
21/607 Mechanisms of action of health interventions in patients with multiple long-term conditions

1

5th April
A range of project and personal award opportunities have also been released this month, highlighted below. Please note that some of the personal awards have deadlines in 2023.
| | | |
| --- | --- | --- |
| Call Title/Programme | Stage | Deadline |
| HTA 22/12 Applications with industry collaboration – The development and evaluation of predictive algorithms using Artificial Intelligence (AI) | 1 | 10/05/22 |
| EME 22/18 Applications with industry collaboration – The development and evaluation of predictive algorithms using Artificial Intelligence (AI) | 1 | 10/05/22 |
| EME 21/603 NIHR James Lind Alliance Priority Setting Partnerships rolling call | 1 | 05/04/22 |
| HTA 21/583 Patient reported outcome measures (PROMs) for pelvic floor disorders | 1 | 30/03/22 |
| NIHR Academic Clinical Fellowships in Dentistry 2022 | Single | 31/03/23 |
| NIHR Clinical Lectureships in Dentistry 2022 | Single | 31/03/23 |
| NIHR Academic Clinical Fellowships in Medicine 2022 | Single | 31/03/23 |
| NIHR Clinical Lectureships in Medicine 2021 | Single | 30/06/22 |
| NIHR Academic Clinical Fellowships in Dentistry 2021 | Single | 31/03/22 |
| NIHR Clinical Lectureships in Dentistry 2021 | Single | 31/03/22 |
| NIHR Academic Clinical Fellowships in Medicine 2021 | Single | 31/03/22 |
| Cochrane review gold open access scheme | Single | 31/03/22 |