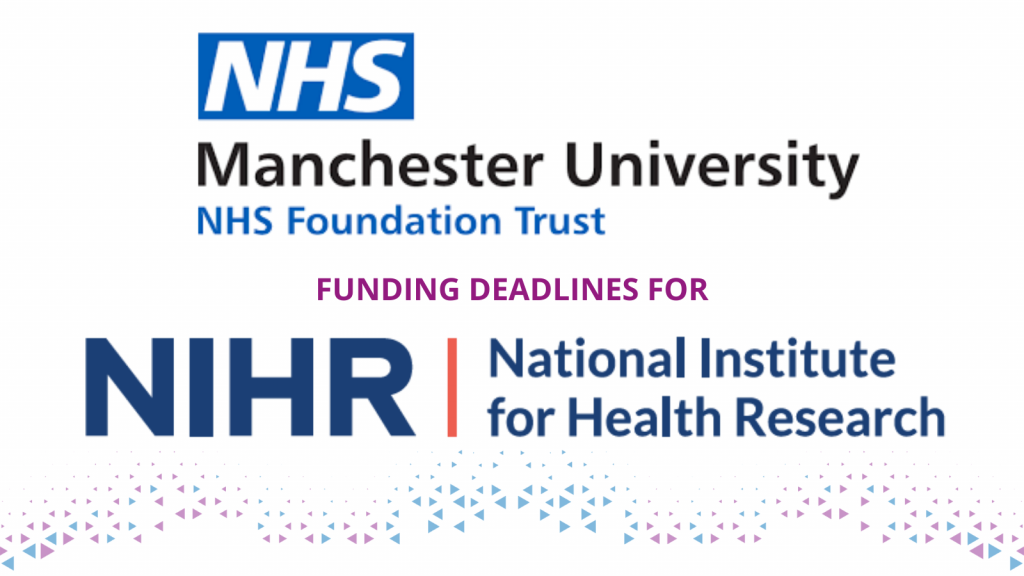 NIHR Deadline Overview – June 2022
The table below collates the NIHR funding deadlines for June 2022. 
This table is collated each month by our partners in MFT. If you have any questions on this table, or wish to be added to the distribution list for this funding bulletin, please email Dr Jo Bryant, NIHR Grants Research Assistant, at joanna.bryant@mft.nhs.uk.
| | | |
| --- | --- | --- |
| Call Title/Programme | Stage | Deadline |
| NIHR Advanced Fellowships Round 8 | Single | 30/06/2022 |
| RfPB Competition 48 | 1 | 13/07/2022 |
| EME 22/70 EME Application Acceleration Award – International platform studies in precision medicine | Straight to stage 2 | 18/07/2022 |
| NIHR Doctoral Fellowships Round 8 | Single | 21/07/2022 |
| Programme Grants for Applied Research – Competition 39 | Stage 1 | 27/07/2022 |
| Development and Skills Enhancement Award Round 10 | Single stage | 29/07/2022 |
There was a smattering of new calls launched over the past month, including:
| | | |
| --- | --- | --- |
| Call Title/Programme | Stage | Deadline |
| EME 22/70  Application Acceleration Award – International platform studies in precision medicine | Straight to stage 2 | 18/07/2022 |
| Development and Skills Enhancement Award Round 10 | Single stage | 29/07/2022 |
| Research for Social Care – Competition 5 | Stage 1 | 14/09/2022 |
| 22/72 NIHR Research Partnerships – liver disease | Straight to stage 2 | 14/09/2022 |
| Programme Grants for Applied Research – Competition 39 | Stage 1 | 27/07/2022 |