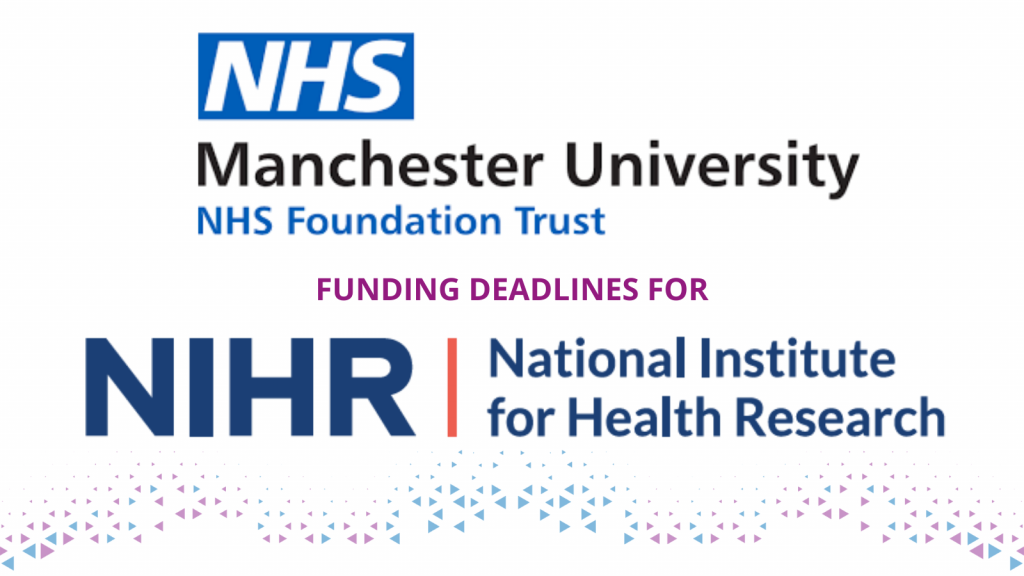 NIHR Deadline Overview – May 2023
The table below collates the NIHR funding deadlines for May 2023. 
This table is collated each month by our partners in MFT. If you have any questions on this table, or wish to be added to the distribution list for this funding bulletin, please email Nicholas Robinson, NIHR Grants Research Assistant, at Nicholas.Robinson2@mft.nhs.uk. 
Call Title/Programme

Stage

Deadline

HTA –

22/170 Testosterone for the treatment of menopause symptoms beyond altered sexual function
22/560 Palliative and end of life care (HTA Programme)
23/1 Health Technology Assessment Programme researcher-led (primary research)
23/2 Health Technology Assessment Programme researcher-led (evidence synthesis)
23/3 NIHR NICE rolling call (HTA Programme)
23/4 NIHR James Lind Alliance Priority Setting Partnerships rolling call (HTA Programme)
23/5 Management of bone metastasis and skeletal related events (SREs) in patients with advanced cancer
23/6 Motor Neurone Disease (HTA Programme)

 

 

 

 

 

 

Stage 1

 

 

 

 

 

 

03/05/2023

EME –

23/15 Precision medicine platform studies to efficiently evaluate the efficacy of interventions
23/16 A platform trial to evaluate potential interventions in dementia

 

 

 

Stage 1

 

 

04/05/2023

RfPB Under-represented disciplines and specialisms highlight notice: Nurses and Midwives

Stage 1

17/05/2023

Invention for Innovation – Product Development Awards Call 26

Stage 1

23/05/2023

HTA – 22/169 Benefits and harms of maintenance therapy for refractory acne vulgaris or previous relapses by reduced dose isotretinoin regimens

Stage 1

24/05/2023

Programme Development Grants – Competition 36

 

24/05/2023

Advanced Local Authority Fellowship (ALAF) Scheme

 

24/05/2023

Invention for Innovation – Challenge 15

Stage 1

25/05/2023

Advanced Clinical and Practitioner Academic Fellowship (ACAF) Round 3

 

01/06/2023

Doctoral Clinical and Practitioner Academic Fellowship Round 3

 

07/06/2023
A number of call deadlines have been launched this month, highlights listed below:
Call Title/Programme

Stage

Deadline

NIHR Population Health Career Scientist Awards

 

06/07/2023

EME – 23/55 Advanced Fellowship: Building clinical trials experience

Straight to Stage 2

06/07/2023

NIHR Doctoral Fellowship Round 10

 

20/07/2023

NIHR Advanced Fellowship Round 10

 

06/07/2023

Doctoral Clinical and Practitioner Academic Fellowship Round 3

 

07/06/2023

Invention for Innovation – Challenge 15

Stage 1

25/05/2023

Invention for Innovation – Product Development Awards Call 26

Stage 1

23/05/2023

Future-Focused Leadership Programme: Emerging Research Leaders – Cohort 2

 

16/06/2023

EME –

23/56 Palliative and End of Life Care (EME Programme)
23/57 Efficacy and Mechanism Evaluation (EME) Programme Researcher-led
23/58 NIHR James Lind Alliance Priority Setting Partnerships Rolling Call
23/59 NIHR NICE Rolling Call (EME Programme)

Stage 1

22/08/2023