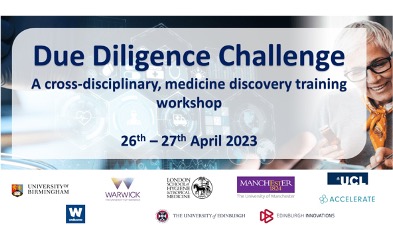 Due Diligence Challenge Residential Workshop
A cross-disciplinary, medicine discovery training workshop
On 26th May 2023, a team of four postdocs from the University of Manchester, each with different disciplinary backgrounds, had the privilege of attending a thought-provoking workshop on drug development due diligence at the University of Birmingham. In this blog post, we aim to share our collective feedback on the event, focusing on its usefulness, networking opportunities, and the impact it had on our understanding of due diligence.
Usefulness of the Event:
We found the workshop to be highly valuable as it provided a multi-centered, cross-disciplinary perspective on drug development. The structure of the event, with background information provided at the beginning and ample time for collaborative work, allowed us to gain insights into the key steps of licensing a drug candidate. Additionally, one attendee mentioned that the residential aspect of the workshop facilitated late working without travel concerns, enhancing the overall experience.
Networking Opportunities:
The workshop was well-organized, creating an environment that fostered networking and collaboration. We had the opportunity to connect with other participants and engage in brainstorming sessions on challenging tasks. Through project work and casual conversations during breaks and dinners, we established meaningful connections. Several of us have also connected with fellow attendees on LinkedIn, further expanding our professional networks.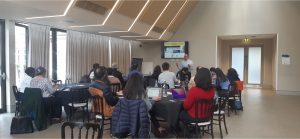 Recommendation to Colleagues:
Without hesitation, we all agree that we would highly recommend this event to our colleagues. The workshop left a positive impression on us, and we believe it would be a worthwhile experience for others. Apart from the valuable content covered in the workshop, we also appreciated the venue of the event and our residence at Edgbaston Park Hotel, which contributed to the overall positive experience.
Understanding of Due Diligence:
The workshop had a significant impact on our understanding of due diligence. Attendee 1's understanding improved significantly, going from a rating of 4 out of 5 before the event to a perfect score of 5 after attending the workshop. Two attendees, who initially had a moderate understanding with a rating of 2, saw a notable improvement, increasing their understanding to a rating of 4. Attendee 3's comprehension also improved substantially, progressing from a minimal understanding of 1 to a solid understanding with a rating of 4.
Conclusion:
The Drug Development Due Diligence Workshop at the University of Birmingham proved to be a highly valuable experience for all attendees. It provided an excellent platform for networking, learning key steps in the drug development process, and enhancing our understanding of due diligence. If you are interested in gaining insights into drug development and expanding your network, we highly recommend attending this workshop.
Posted on behalf of:
May-LLi MacKinnon
Sergi Celis
Lucy Huitong Li
Nihan Izat