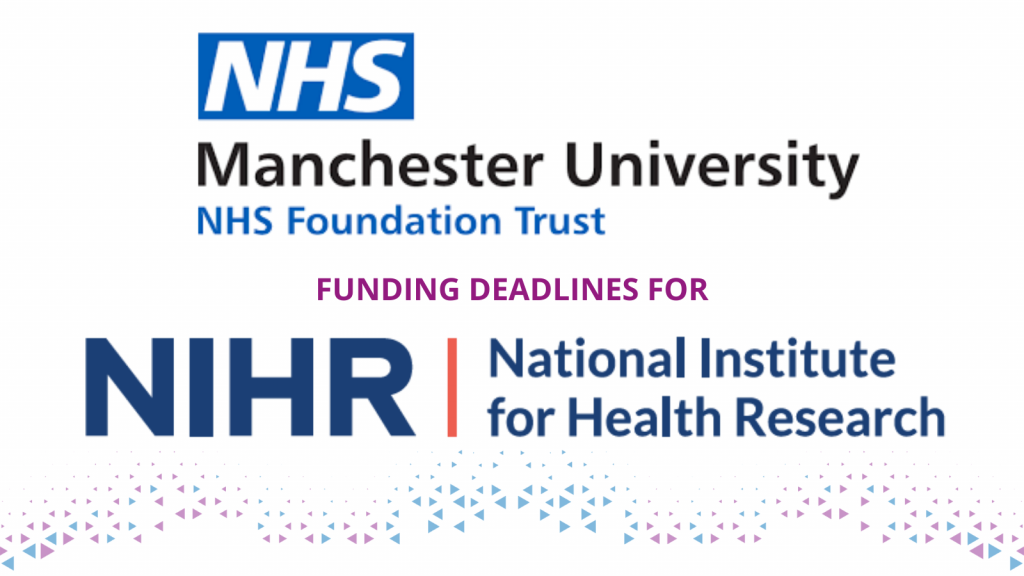 NIHR Deadline Overview – December 2021
The table below collates the NIHR funding deadlines for January 2022 as well as new calls highlights.
This table is collated each month by our partners in MFT. If you have any questions on this table, or wishe to be added to the distribution list for this funding bulletin, please email Dr Jo Bryant, NIHR Grants Research Assistant, at joanna.bryant@mft.nhs.uk.
A document with the transitional deadline overview, showing all launched calls until end of April 2022 is available here.
Upcoming Application Deadlines in January
Call Title/Programme

Stage

Deadline

HTA Themed Calls including:

21/556 NIHR NICE Rolling Call
21/558 NIHR James Lind Alliance Priority Setting Partnerships rolling call
21/559 Dementia Research Call

HTA Researcher Led (primary research and evidence synthesis)

1

5th January

I4i Challenge Awards call 13

1

12th January

Advanced Fellowship Round 7

Population Health Career Scientist Award

Single stage

13th January

Doctoral Fellowship Round 7

Single stage

18th January

I4i Dementia call

1

26th January

HTA Commissioned – 21/608 Diagnostic accuracy of pulse oximeters

Straight to stage 2

27th January
New Calls – Highlights
Call Title/Programme

Stage

Deadline

21/575 HSDR Rapid Service Evaluation Team 2022

1

05/01/2022

HSDR

21/573 NIHR James Lind Alliance Priority Setting Partnerships rolling call
21/574 Standard Researcher Led

1

11/01/2022

Invention for Innovation – Challenge Awards Call 13

1

12/01/2022

Advanced Fellowship Round 7

Population Health Care Scientist Award

Programme Development Grants – Competition 32

Single stage

13/01/2022

Doctoral Fellowship Round 7

Single stage

18/01/2022

Invention for Innovation – Dementia Call

1

26/01/2022

HTA 21/608 Diagnostic accuracy of pulse oximeters

Straight to stage 2

27/01/2022

Patient Safety Research Collaborations

1

09/02/2022

PHR Commissioned Calls x 5

PHR Themed Calls

21/596 NIHR James Lind Alliance Priority Setting Partnerships rolling call
21/599 Continuing priority research topics of interest to the PHR Programme
21/595 NIHR NICE Rolling Call (PHR Programme)
21/597 Public Health Research Programme researcher-led

1

05/04/2022

RfPB Competition 47

1

09/03/2022

HTA Commissioned Calls (see Commissioned Calls tab)

21/578, 580-582, 584-591

1

30/03/2022

EME

21/609 Researcher led
21/607 Mechanisms of action of health interventions in patients with multiple long-term conditions (MLTC)
21/604 NIHR NICE rolling call
21/602 Pain management for children and young people (0-19 years)
21/603 NIHR James Lind Alliance Priority Setting Partnerships rolling call (EME Programme)

1

05/04/2022