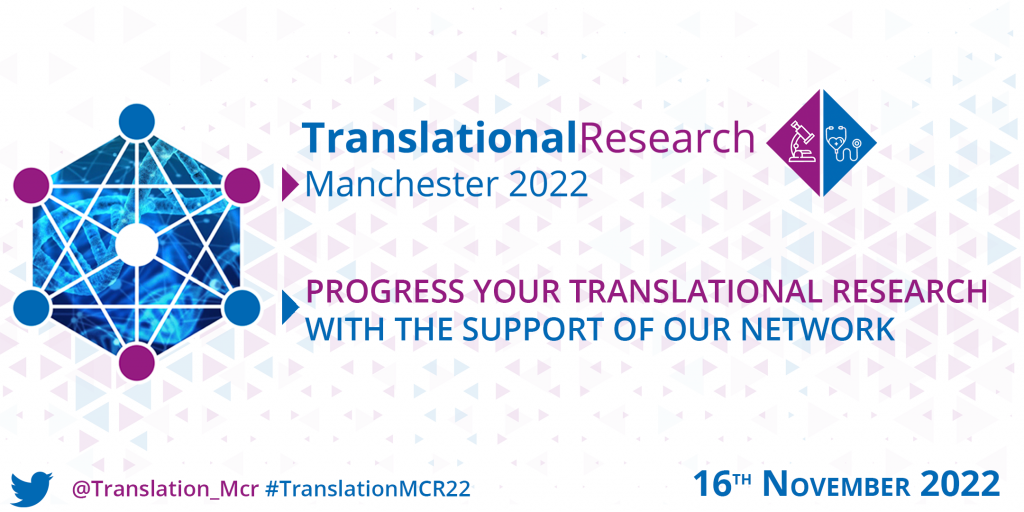 Translational Research at Manchester 2022
Join us to find out how the Translation Manchester Research Network can progress your Translational Research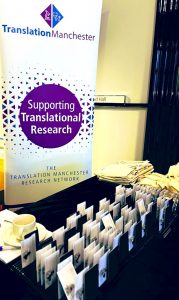 Following the successful launch event in 2019, and after the success of last year's Translational Research at Manchester 2021 event, we
are delighted to announce that we will be hosting our annual event "Translational Research at Manchester 2022" on the 16th November 2022 where we will focus on how you can 'progress your translational research with the support of the Translation Manchester Research Network'.
Translational research relies on collaborations and multidisciplinary working, but in large organisations, finding the support you need at the right time can sometimes be tricky. In an attempt to bring this infrastructure together into one, easily accessible space, Translation Manchester has created the 'Translation Manchester Research Network (TMRN)' as your one-stop-shop for all your research support needs.
The event will focus on how the Translation Manchester Research Network can support and progress your Translational Research. We will highlight the impact our TMRN partners have had on previous translational research to showcase the importance of collaborations and multidisciplinary working within Translational Research.
If you're involved or interested in translational research in Manchester, then this event is for you. Whether you're a researcher, clinician or SME working on healthcare innovations then you're welcome to join us for this full day event.
The programme will include:
Lightning talks from TMRN Partners
Funding opportunities for translation and innovation
Lunch
Trade stands from TMRN partners and funders
Early Career researchers poster competition (with prizes!)
Past awardees successes
Inspirational Key note presentation
Prize announcements and drinks reception
The University of Manchester Translational Partnership Award (TPA) leadership members including Professor Luke Georghiou, the University of Manchester's Deputy President and Deputy Vice-Chancellor who is PI of the TPA and Professor Nigel Hooper Associate Vice-President for Research at the University, Co-PI of the TPA will be in attendance.
The event will also feature a poster competition for early career researchers with deadline for abstract submission 12th October 2022 – Voucher prizes for the best posters.
To register for the event and to find out more about the poster competition please follow the links below: