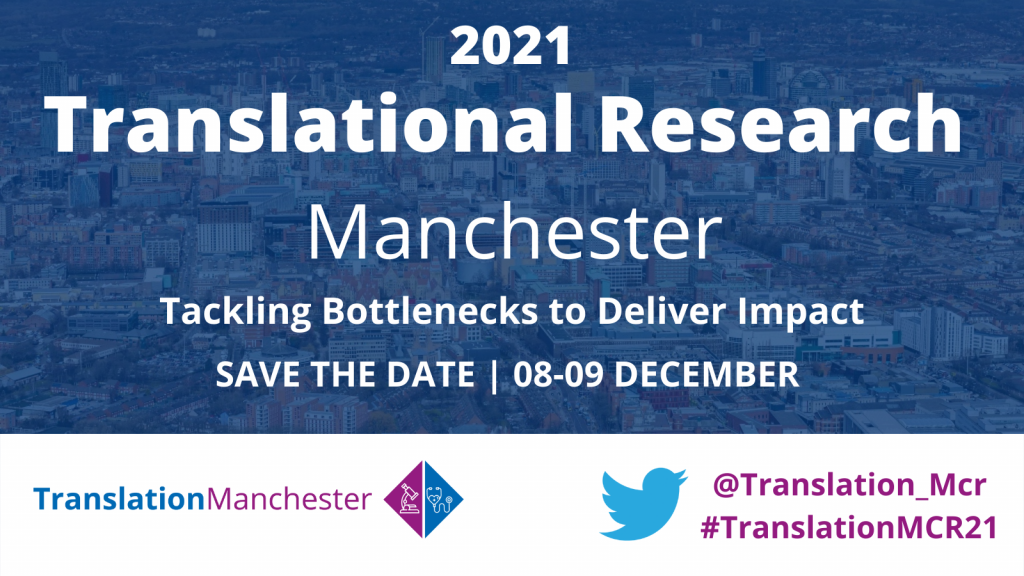 Save the date! 08-09 December: Translational Research at Manchester 2021
Following a successful launch event in 2019 and the recent renewal of the University's Wellcome Trust Translational Partnership Award (TPA), we are delighted to announce that we will be hosting the "Translational Research at Manchester 2021" event on 08-09 December.
Join us and Manchester's research community to discuss the highlights and challenges of conducting translational research at Manchester and discover the opportunities and support available to you to help progress your research along the translational pathway. If you are involved or have an interest in translational research, this event is for you.
We will explore the importance of a Translational Research Culture and showcase the breadth of translational research across the University and Manchester NHS Trusts. We will highlight the impact of translational research on patient outcomes and discuss the importance of collaborations and multidisciplinary working.
The sessions will take place across two days with several interactive, online debates providing convenience for you to attend from your desk. There will also be face-to-face activities including a networking session and evening ceremony giving you the opportunity to meet other researchers and clinicians across different disciplines. In addition to this, there will be a poster competition allowing early career researchers to showcase their work and win prizes. 
Full details of all the sessions and how to get involved will be released soon. Sign-up to our mailing list here to receive updates.
Click on the links below and add this 'Save the Date' announcement to your calendar.
Add event to calendar