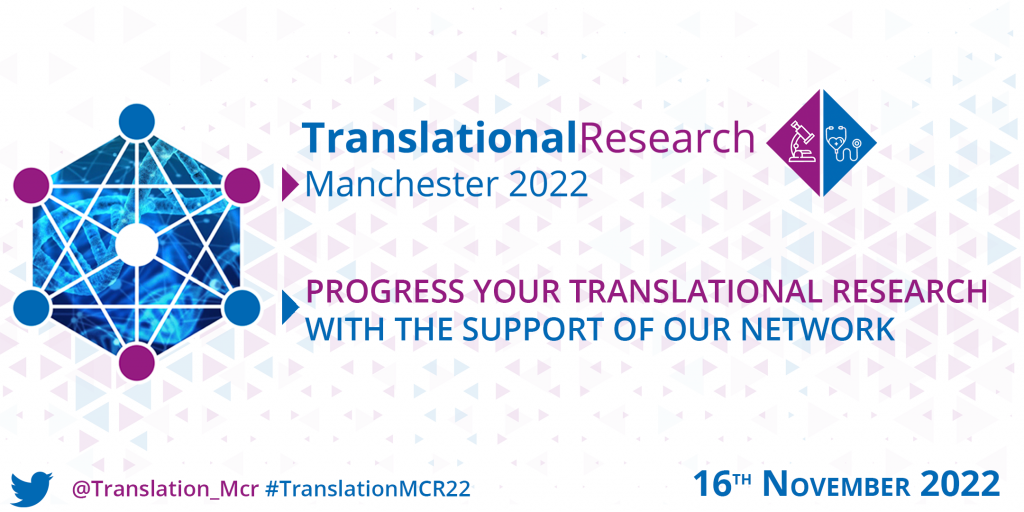 Translational Research at Manchester 2022: Progress your Translational Research with the Support of our Network
On the 16th of November Translation Manchester hosted its annual event, Translational Research at Manchester 2022 at the Pendulum hotel. The event, funded by Wellcome's Translational Partnership Award, focussed on how the Translation Manchester Research Network (TMRN) can support researchers at Manchester to progress their research towards a healthcare outcome.
With over 280 registrations and 42 trade stands from TMRN partners as well as a selection of three minute lightning talks, the breadth of support available to researchers at all stages of their translational journey was highlighted. There was plenty of opportunity for networking, discussions and making those all-important connections – all evidenced by the general level of noise coming from the exhibition rooms! A poster session with posters from early career researchers at the University gave a taste of the great research yet to come from our rising stars who competed for prizes awarded in the final drinks reception. Examples of successful translational research projects from previous Translation Manchester awardees also highlighted the importance of the support provided by the partners of the TMRN and by the Translation Manchester team. A comprehensive funding workshop highlighted internal and external funding opportunities and tips to write successful funding applications directly from major translational funders such as MRC, EPSRC, NIHR and LifeArc. The pitfalls and challenges involved in translational research, illustrated in part through some humorous real world examples, highlighted the importance of making the right connections and networks – which the TMRN can help you do!
Read the following sections to find out more about the content of each session, download the slides from the speakers and watch back some of the talks.