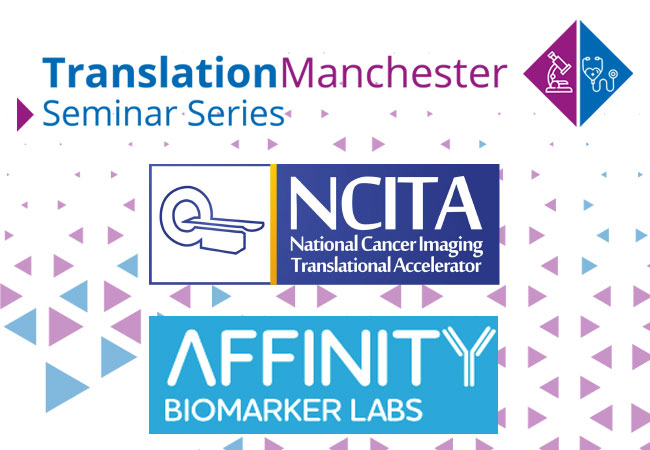 Translation Manchester Seminar Series – February 2021
The Translation Manchester Seminar Series is an opportunity for researchers to connect with each of the Translation Manchester Research Network (TMRN) partners and hear how they can help support and progress translational research projects. The growing network includes organisations from across the University, Greater Manchester NHS Trusts and industry. With network members supporting projects at each phase of the translational research pathway, this is your opportunity to meet them and develop future collaborations.
On 24th February 2021, Translation Manchester welcomed Dr Penny Cristinacce representing the National Cancer Imaging Translational Accelerator (NCITA) and Dr Scott Harrison representing Affinity Biomarker Labs to introduce their organisations and how they support translational research.
The National Cancer Imaging Translational Accelerator (NCITA) engages with industry, the NHS, academic partners, funders and regulatory agencies to enhance collaborative work between clinicians and scientists and to establish consensus guidelines for the certification and adoption of cancer imaging biomarkers into clinical practice.
Affinity Biomarker Labs support research across Greater Manchester via the provision of central laboratory services and esoteric biomarker analysis. Affinity also partners with researchers in the development of novel diagnostics and point of care immunoassays.